Speeches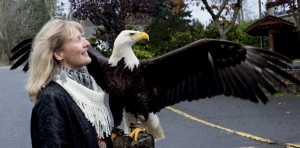 If you would like to hire Anne and  Eddie for a fun and inspiring talk please E-mail: Anne@geesecontrol.org
They also work private events, such as birthdays and corporate parties, and more…
Anne Sison
415-992-7654
Topics:
Follow your heart, not your hurt:
Learn how to go after your dreams, even when others are telling you it's impossible. Anne and her best friend, Eddie the eagle, will share the blocks that got in their way and how they flew above it all, to inspire and trigger you to take action and realize your destiny.
Hurdle over your challenges to the finish line:
Being a cancer survivor, getting off medications after 28 years, and overcoming challenges in a male dominated field, while achieving amazing success makes her an expert in this field. Anne and Eddie (her pet eagle) will share stories to help give you different points of views, to see your challenges in a whole new light.
Animals can be our greatest teachers.
We've become lost in our thinking mind that we've been cut off from the intuition we were born with. Anne will share with you, how to connect with animals and let them be your teacher and re-ignite your connection to natural instinct.
Bio:
Anne has been a licensed falconer since 1987 after studying at the Canadian School of Traditional Falconry.  Her expertise as a Falconer has allowed her to train hawks, falcons, eagles and owls to be  used for wildlife control, education and demonstrations.

For the past thirteen years Anne has been sought after for Canadian geese control on golf courses, parks and sports fields, as well as seagull and pigeon control.  Because of her expertise and success with geese control she has been interviewed by major radio stations, television shows and national newspapers to speak about how she has created the most effective and humane programs for geese control.  The methods she has developed have been proven over and over again successfully. 
As a result of her dedication to her passion of Falconry, Anne has given many educational talks with her birds at business functions, schools, senior's homes, malls and children's groups such as Cub Scouts and Sparx. Moreover, she has volunteered with her birds at camps for kids with cancer and hospice.
Link to video sample clip of live presentation:
Reference letters:
"Anne and Eddie are a WOW experience! " The relationship between Anne and Eddie is amazing to see and really brings home how important it is that we respect and are connected to nature. Anne has a real gift in speaking about her personal story of her history with Eddie as well as her work with many other birds over her career as a falconer. Whether she is attending a community event or with a small group of people such as she did for our leadership team from work, Anne and Eddie bring a sense of awe and appreciation when they are together. Anne is so personable and excited to be speaking about her work with Eddie that an hour goes by extremely fast and is filled with great questions and interaction with everyone. 
I highly recommend inviting Anne and Eddie to any event to hear their story and to experience a close up look at this magnificent eagle in person. Thanks Anne."
Rob Grundison
Chief Relationship and Sales Officer
Coastal Community Credit Union
Tel: 250-741-3237
————————–
"It was an absolute delight to be with Eddie and Anne. We learned so much about Eddie, eagles, raptors, falconers and the animal kingdom from Anne's vast knowledge and information. Anne has such a natural way to be with people – she teaches and inspires by sharing her stories and she engages her audience so easily and effortlessly.
Watching Anne and Eddie together was incredible – they have a remarkable relationship that gives me chills and makes my heart swell at the same time! We can all learn so much about relationships, leadership, communication and being present from Eddie and Anne."
Laura McCafferty BA, ACC
Inspired Coaching & Development
250-667-5391
————————–
"I have been to many presentations and I truly and sincerely enjoyed yours.  I loved your majestic Eddie.. I loved the bond that was  so apparent between the two of you. Your knowledge of raptors is impressive. Your ability to answer questions comfortably with anecdotes just brought so much learning to our time as a large group with you and Eddie.  Your honesty and your sincere presence to our group gave us all something  to think about as we left.
You presented teaching moments with humour and intelligence.  You had the ability to create an environment of sharing  about our relationship with the animal world and the place of peace we all feel when  we are being present and sincere with our domestic  friends and wildlife. This has allowed to to pause and reflect upon our own behavior.
A warm thank you for the privilege of sharing time with you and Eddie"
John McLellan – General Manager
Ballantrae Golf Course – Ontario
(905) 640-6333